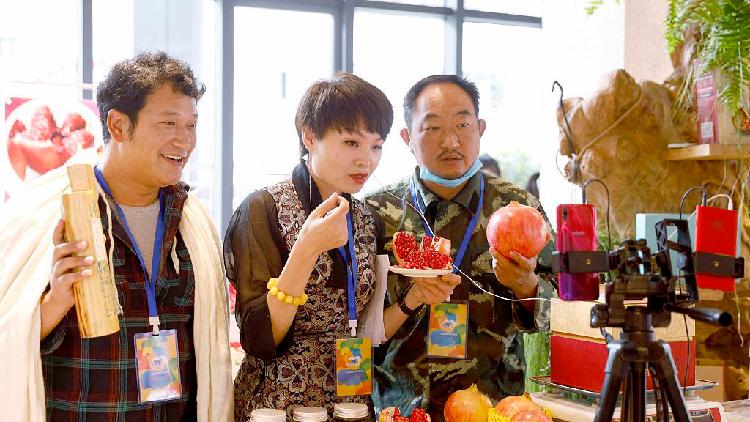 Jianchuan, a county in the northwest of southwest China's Yunnan Province with a population of 184,800, was fully lifted out of extreme poverty in 2020, thanks to the country's booming digital economy. The added value of its agriculture industry stood at 1.2 billion yuan, increasing by 5.9 percent on a yearly basis despite COVID-19, with overall GDP reaching 5.9 billion yuan.
China has declared success in its fight against extreme poverty in the country, and now comes the next step of "rural revitalization." The concept is one of the objectives of China's current 14th Five-Year plan, aiming to further improve living standards in the countryside and narrow the gap between rural and more developed urban areas. 
Fu Qingyun, the first deputy head of Jianchuan County, said that although every household is above the poverty line, there are some underdeveloped areas in the county that is known for its high-quality agriculture products. A lack of sales channels and logistic resources are among the challenges facing local farmers and businesses.
To offset these hurdles and improve sales, the county's e-commerce center has teamed up with several online retail platforms, including JD.com, Taobao and Yunshow.com. 
More than 58 local businesses have set up in the e-commerce center to sell products, such as red potatoes, kidney beans, quinoa, and walnuts, to customers outside the province. E-commerce and live-stream marketing have served to reduce the costs of distribution.
"Our platform opened a special channel for the products from rural areas and helped them to get online faster," said Leng Jing, the CEO of Idol Group, a Shanghai-based information technology firm. "Then they can get their money back quickly. Normally, they can receive 80 percent of the sales revenue within seven days of deliveries." 
Livestreamers with the platform find that products from the countryside are getting popular. 
"All agriculture products from rural areas are extremely popular. Sales are even better than previous bestsellers like shoes or bags. Sales of agriculture products have jumped at least five or ten times," Wang Zexuan, livestream salesperson of the platform, said.
"Though the price is lower, usually less than 50 yuan, the sales volume remains high. Many regular consumers buy two or three things at once."  
With the continuous expansion of network coverage in rural areas, Idolplans to help sell the agriculture and sideline products overseas.
China's pilot projects on promoting digital technologies in the countryside began in 2018. Projects including the construction of optical-fiber wideband, the mobile internet, digital TV networks and the next-generation internet are all scheduled to be completed by the end of the year.
https://news.cgtn.com/news/2021-11-13/China-s-e-commerce-boosts-agricultural-sales-in-countryside–159yxZNJtpS/index.html