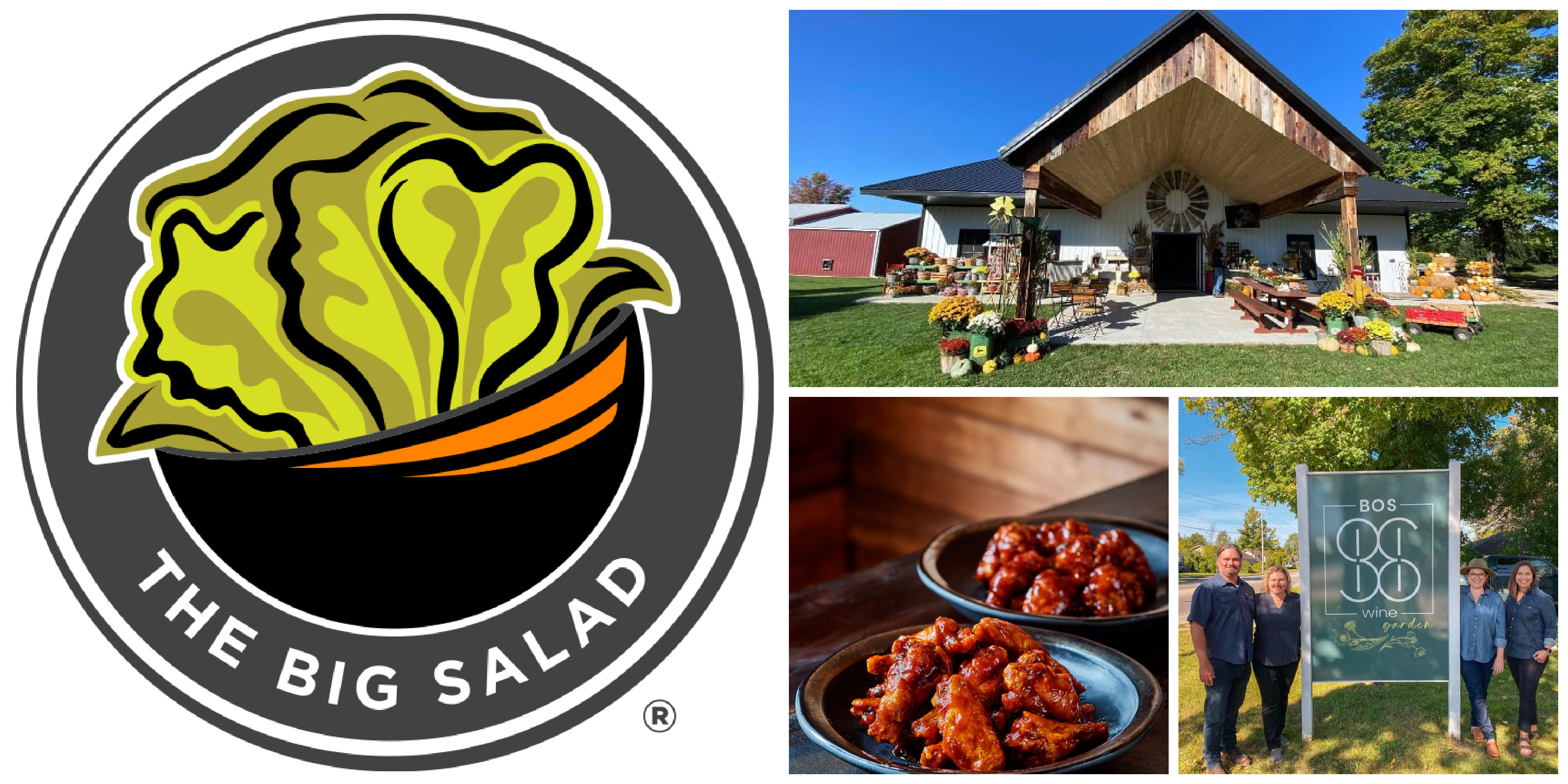 A flurry of restaurant and retail activity is coming to Traverse City this fall, with a new restaurant opening in downtown Traverse City this week and another on the way in November, a new farm market in Williamsburg, a new wine garden in Elk Rapids, and numerous other openings, closings, and moves across the area.
The Big Salad is planning a grand opening Thursday at its new downtown Traverse City location at 332 East Front Street. It will be the first northern Michigan spot for the Michigan-based chain, which also has locations in Ann Arbor, Grosse Pointe Woods, Woodhaven, Charlotte, Detroit, and Spring, Texas, with plans to open Farmington and Cincinnati locations next year. The restaurant specializes in "fresh and healthy dining options," according to a company release, including "more than 17 million possible combinations of hand-crafted iceberg, romaine, or spinach salads, and a choice of 40 toppings and 30 varieties of dressings." The Big Salad also offers fresh-made fruit smoothies, sandwiches and wraps, and soup options.
The Traverse City location will be operated by local franchise partners Nathan Blessing and Ben Jackson, who are planning opening day activities including gift card giveaways to the first 50 customers, a drawing for a one-year free salad or sandwich package, and food samples. "We're excited and eager to be part of the growing Traverse City restaurant scene and the greater business community," says Blessing. "Traverse City has always been welcoming to new businesses. All throughout the construction period, the community has been very welcoming to us, and we're looking forward to serving them." The restaurant will offer indoor dining, carryout, curbside pickup, and Door Dash delivery, with hours of Tuesday-Sunday 11am-7pm.
Further along East Front Street, Detroit Wing Co. is planning an early-to-mid November opening of its first northern Michigan location at 1201 East Front Street next to Dickey's Barbecue Pit. The company has expanded to 11 locations across Michigan since 2015 and plans to open an additional seven stores by early 2022. The restaurant serves all-natural chicken wings and 19 house-made signature sauces, which are "all-natural and free of preservatives, MSG, and artificial flavorings," according to the company. Franchise owners Adam Earle and Nichole Panik Earle, first-time Detroit Wing Co. franchisees, will oversee the Traverse City location. The duo also operate two sub sandwich franchises in Gaylord and Traverse City.
"With the opening of our Traverse City location, we have fulfilled a long-standing request to bring the Detroit Wing Co. brand to northern Michigan," says company founder Gus Malliaras. "We're looking forward to growing roots in this community and bringing our award-winning chicken wings, tenders, and sides to TC."
In Williamsburg, a new farm market called Myrtle & Maude's has opened its doors at 10937 Elk Lake Road. "Outside, people will find local produce, apples from our farm, mums, u-pick pumpkins, wagon rides, kids play area, and a relaxing farm atmosphere," says co-owner Sadie Merchant, who notes the site is her third-generation family farm. "The store features cherry products, home decor, vintage treasures, unique gifts, reclaimed furniture, Michigan-made products, and much more. There is definitely something for everyone at our market, and we hope to promote a fun family atmosphere that becomes a top northern Michigan destination." Merchant and her mother, Sue Hubbell, are also extensively involved at The Red Dresser and maintain a space there, as well as help put on the semiannual Barn Market event at the Northwestern Michigan Fairgrounds.
The BOS Wine Garden has opened its doors at 135 Ames Street in Elk Rapids in the former Planetary Coffee building. Dave Bos previously told The Ticker the tasting room will be unique locally in that he produces both California and Michigan wines, having spent 13 years in Napa Valley before relocating to northern Michigan. Bos also specializes in organic and biodynamic wine-making, providing consulting services on that front for several local wineries in addition to his own business. Sparkling and white wines – including Riesling, Pinot Gris, and white blends – will feature prominently in the company's Michigan lineup, while California highlights will include Cabs and Syrah blends. With a limited amount of indoor and patio seating, the BOS Wine Garden recommends reservations and offers two experiences: a $28 wine tasting or $40 "curation experience" pairing wines with various meats, cheeses, and accoutrements.
Other openings, closings, and moves…
A downtown Traverse City institution is closing its doors. The Bookie Joint owner Jann Norton recently posted online that it is "with great sadness that, after 20-plus years as Traverse City's premier used bookstore, I am closing The Bookie Joint by October 31, 2021. I want everyone to know how much I have appreciated your business and your loyalty. It's been an honor and pleasure to serve all of you. Many of you have become an important part of my day. Thank you." Norton is holding a going-out-of-business sale through the end of the month.
Three Traverse City businesses have announced closures, including two at The Village at Grand Traverse Commons. Fuel Your Tomorrow, which prepared health-conscious meals and was owned by Kelsi and Kaylee Davenport, announced on Facebook that Kaylee has been hired as a personal chef for a New Orleans Saints player. Kaylee will need to relocate by the end of October, according to the post, leading to the sudden closure of the business. The Davenports said they are open to talking with those interested in a business opportunity with Fuel Your Tomorrow. Pleasanton Brick Oven Bakery announced this weekend it is temporarily closing its bakery due to staffing shortages. While the company will continue to deliver cookies to both Oryana locations, the bakery and pizzeria is otherwise shutting down operations. "We are hopeful that this closure will be short-lived and that we'll be back baking for you in no time," the company posted. Meanwhile, Dockside Party Store 31 near Chums Corner announced Tuesday it had closed its doors and was selling off its store equipment.
A new boutique has opened at 441 East Front Street in downtown Traverse City. Olive Branch Boutique – launched by the same owners of Magnolia Boutique in Cadillac and Rockford – offers women's clothing, jewelry, accessories, gifts, and more. The store is open Monday-Friday 10am-6pm and Saturday 10am-4pm. Further down East Front Street, Lobdell's Teaching Restaurant recently reopened its doors within the Great Lakes Culinary Institute for fall lunch service. Service will run through December 9 and is available Tuesdays, Wednesdays, and Thursdays 11:30am-1pm, with reservations available for groups up to eight. Also downtown, Fresh Coast Beer Works & Ubrew Homebrew Supply on Park Street announced the addition of a food truck next to its outdoor tent. Guiseppis More Than Just a Pizza Wagon offers menu items like pizza, cudighis (Yooper-style sub sandwiches), pork BBQ baked sandwiches, loaded nachos, and more. Fresh Coast will update its Facebook page with hours and menus for the truck.
Brooklyn's Pepperoni Rolls opened a new location Thursday in Logan's Landing on South Airport Road next to Panda North. The company, which was originally delivery-only and focused solely on pepperoni rolls, now has an expanded menu that also includes Chicago-style deep dish pizza, garlic knots, seasonal soups, and Caesar, Greek, and Antipasto salads. The eatery is open for takeout only Thursday-Saturday 12pm-7pm, with online ordering available.
Cloud Cannabis, a medical marijuana dispensary, has launched a new delivery service in Traverse City. The company will deliver for free to a 30-mile range from the Cloud Cannabis store at 356 Munson Avenue with a $100 minimum order. Medical card holders can place an order online for delivery. Also on the delivery front, local delivery service RingDinnerBell.com has announced a list of more than a dozen area restaurants, liquor stores, markets, and delis from which it will deliver goods to a 12-mile range from downtown Traverse City. Delivery hours are Monday-Saturday 11am-9pm.
Finally, several outdoor and fitness-related companies are on the move in Traverse City. Sportsman's Warehouse – a hunting, fishing, camping, and boating store – has opened its doors at 3500 Marketplace Circle in Buffalo Ridge Center. The store is open Monday-Saturday 9am-9pm and Sunday 10am-6pm. Irish Boat Shop Traverse City has moved locations from US-31 in East Bay Township to 988 West Commerce Drive in Chums Corner. The store is currently only open limited hours and recommends customers call before visiting. EVO Athletics, a new fitness facility offering HIIT classes, yoga, youth sports training, and other classes, is planning a grand opening this Saturday at 2751 US-31. The facility will be offering a blitz sale for unlimited 12-month memberships and raffle prizes as part of the opening. Lastly, Blair Township recently unveiled a new Fitness Court at the Blair Township Park off County Road 633. The result of a partnership between Priority Health and the National Fitness Campaign, the Fitness Court is an open-air wellness center that is adaptable to all ages and fitness levels. The facility is free and open to the public to use.
Pictured (clockwise from left): The Big Salad, Myrtle & Maude's, BOS Wine Garden grand opening, Detroit Wing Co. wings
var finished_rendering = function () {
var avgStoryHeight = 380;
var scrollTop = $(window).scrollTop();
var commentOffset = $('#comments-height').offset().top; var commentDistance = (commentOffset - scrollTop);
var sidebarOffset = $('#sidebar-height').offset().top; var sidebarDistance = (sidebarOffset - scrollTop);
var difference = (commentDistance - sidebarDistance);
var addStories = Math.floor(difference / avgStoryHeight);
if (addStories > 0) { $('div.sidebarStory:lt(' + addStories + ')').show(); }
};
window.fbAsyncInit = function () { FB.init({ appId: '1122522637776098', xfbml: true, version: 'v2.7' }); FB.Event.subscribe('xfbml.render', finished_rendering); };
(function (d, s, id) { var js, fjs = d.getElementsByTagName(s)[0]; if (d.getElementById(id)) return; js = d.createElement(s); js.id = id; js.src = "https://connect.facebook.net/es_LA/sdk.js"; fjs.parentNode.insertBefore(js, fjs); }(document, 'script', 'facebook-jssdk'));

https://www.traverseticker.com/news/fall-brings-restaurant-retail-changes-to-traverse-city/