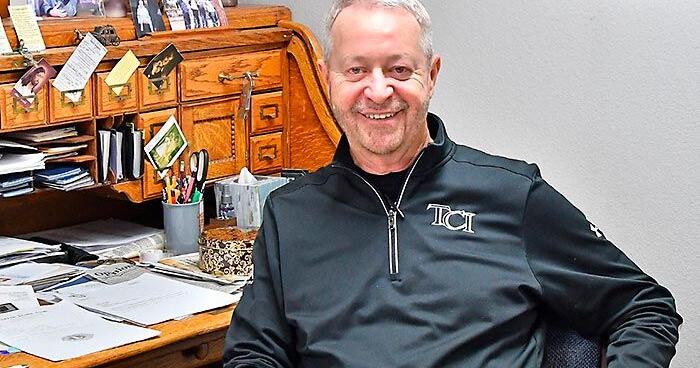 PIERCE — An important fixture of the Pierce business community will celebrate a milestone this week.
Town & Country Insurance will mark its 50th anniversary on Thursday. At the same time, owner Rick Sirek will mark his 50th year in the insurance industry, a career that has allowed him to develop strong relationships, help people in times of crisis and take an active role in the place he calls home.
"Some of the things that I think are the most rewarding are when somebody does have a serious claim — whether it's a liability, a house fire or a tornado  — we're able to make them whole again," Sirek said. "I find it rewarding that we can protect people's assets."
Town & Country Insurance began in January 1972, emerging from the former Black-Bovee-Childers Agency.
Sirek — a native of Pierce County and a 1966 graduate of Pierce High School — had wrapped up his education at the University of Nebraska and Marine Corps training as part of the ROTC program. He considered applying to become a police officer in Lincoln, but his father called to tell him there was a job opening at the insurance agency in Pierce in which he might be interested.
"I took it mainly because I asked my wife to marry me, and she said she wasn't going to unless I had a job," he said with a smile.
Before long, Sirek purchased the agency and began looking at ways to grow into the future. His focus set on growing the agency's volume so it would have more options to offer.
"There were places that I wanted to insure, but I didn't have the companies that were big enough to write their coverage," Sirek said. "I needed the contracts from those other carriers. The only way to get those contracts was to have more volume."
Sirek saw other small agencies in surrounding communities with the similar challenge of limited options, as well.
"I decided I was going to have to buy other agencies in other towns to get bigger, to get more volume, so I could get the contracts I wanted from larger carriers," Sirek said.
Town & Country Insurance subsequently grew to include 10 locally staffed locations — Pierce, Norfolk, Osmond, Plainview, Randolph, Valentine, Crofton, Lindsay, Clearwater and Crofton.
"When you have 10 locations and you're feeding business to insurance companies from that many locations, your volume grows, and we can get better contracts with insurance companies, and we can write more business that way," Sirek said.
Two years ago, Town & Country Insurance once again increased its volume when it merged with the Gary Thompson Agency (GTA), which had 22 locations in southern and central Nebraska.
"Gary Thompson was a good friend of mine from Red Cloud. He's the same age and started at the same time I did, and we were kind of doing the same thing. … The economics of getting bigger made sense," Sirek said.
Town & Country Insurance offers residential coverage, including homeowners, auto and umbrella policies. On the commercial side, the agency offers "all lines," including coverage for contractors, trucking and crop.
Joshua Sirek, the son of Rick and Vicki Sirek, handles securities, estate planning and investments for the agency.
"Basically any kind of insurance you can think of, we offer," Rick Sirek said.
Sirek said he has seen many changes in the industry over the years, the biggest of which has been the use of technology.
"When I started in 1972, I used a typewriter and carbon paper. There wasn't such a thing as a copy machine or anything like that," he said.
Sirek said he liked to remain on the cutting edge of the technology because he knew it would be a benefit to the agency.
"He was pre-mobile phone," Vicki Sirek said. "We lived on the edge of town, and we put up a huge tower that we could radio the office. The office could radio Rick in his pickup. … He was one of the very first with a bag phone, too."
The years have brought their share of challenges to the insurance industry, as well. While increasing government regulation is one, the most difficult challenge Sirek said the agency has faced in the past few years relates to the workforce.
"We've been pretty lucky, especially in (the Pierce) office. We've had the same employees for years and years," Sirek said. But as longtime workers slowly approach retirement, the challenge to find replacements for valuable employees looms as a daunting task.
"The learning curve when you hire someone in the insurance business — to know what these people who have been here a long time know — is tremendously long," Sirek said.
But Sirek is hopeful as he sees more young people recognizing the value of living in a small community or returning to their hometown. Sirek, too, recognizes that value and emphasizes to employees the importance of being a family-oriented agency, as well as active involvement in the community.
Employees are welcome to take time off to attend their children's extracurricular events and church events. They also are encouraged to be active in their community.
"I've always told everybody that works here — whether they're an outside producer or customer service representative — we need to be involved in the community because we need to give back to the community," he said. "If you don't get involved, things don't happen."
Town & Country Insurance will host a 50th anniversary celebration on Thursday, Jan. 13, from 8 a.m. until 5 p.m. at the Town & Country building on Main Street in Pierce.
https://norfolkdailynews.com/select/business/pierce-agency-owner-celebrate-50-years-in-insurance-industry/article_73441ca6-73ba-11ec-91d3-f33ec50bd01d.html