Yamayasu Turnpike Store by Moriya and Partners (MAP)
Architecture studio Moriya and Partners (MAP) has completed an eye-catching retail design for Yamayasu Turnpike Store in the city of Odawara, Japan. The project incorporates a series of characteristic wooden pillars forming a mountain-like scene with a distinct rhythm — like that of a bouncing fish. These unique design elements draw from the area itself which combines both mountain and sea, and is house to a bustling touristic fishing port.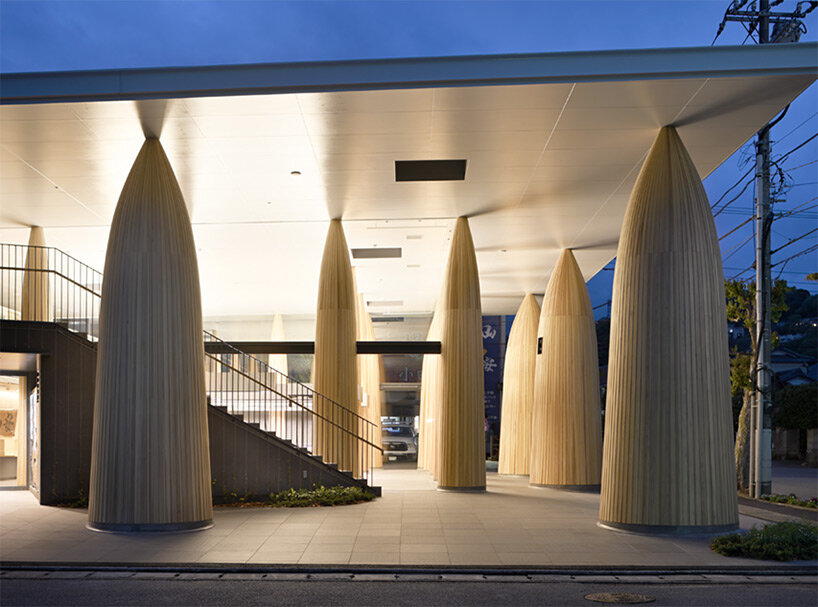 all images by Nacasa & Partners – Yoshifumi Moriya
open market-like atmosphere
According to the team at MAP, in these past few years, many franchise stores with superficial and introverted designs have made their appearance in Japan. 'We are concerned that this landscape of uniform stores throughout the country may destroy the history and climate of the region itself.' the architects share. Steering away from this trend, the designers have established a strong architectural language that makes use of the local character, while forming an efficient and welcoming retail center. 
Responding to the client's request for a symbolic commercial facility that can draw in the flow of people from the fishing port, MAP has planned a single-story building with a market-like atmosphere. The entire site is connected under a large canopy —just like a market— so that people can easily approach from each direction. The outer circumference can be used as an eaves plaza, while a staircase leads visitors to the dining room on the second floor.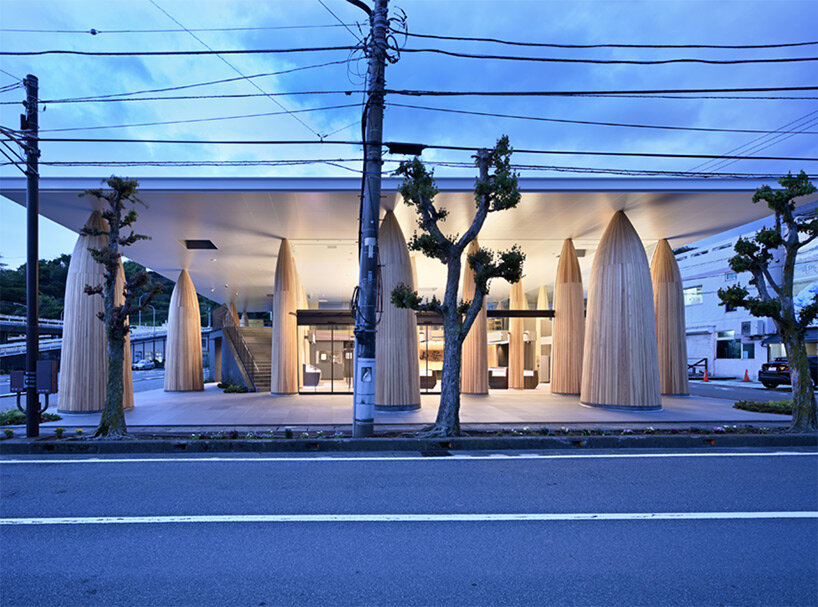 characteristic wooden colonnades 
The large wooden colonnades that support the roof present a mountain range-like scene as a motif. Besides serving as a unique design element, the pillars are also used as the support system of the structure. Each column has a steel core rod passing through its main shaft and is completed by a wooden frame wrapped around it.
The arrangement of the pillars is optimized so as not to obstruct the views from the roadside and the functionality of the store. When visitors enter the premises, they feel as if they are enveloped within a cluster of tall mountains, while also enjoying the surrounding scenery of the natural mountains and tangerine fields in the background.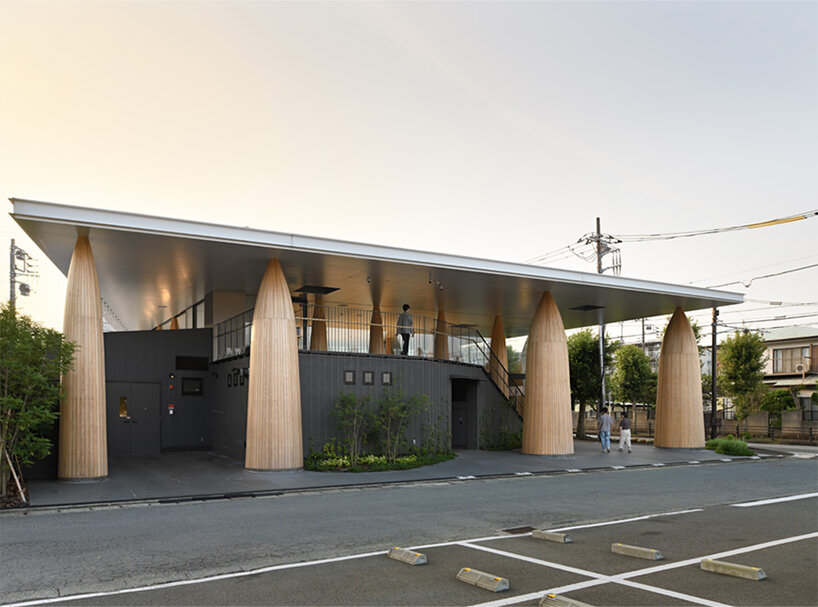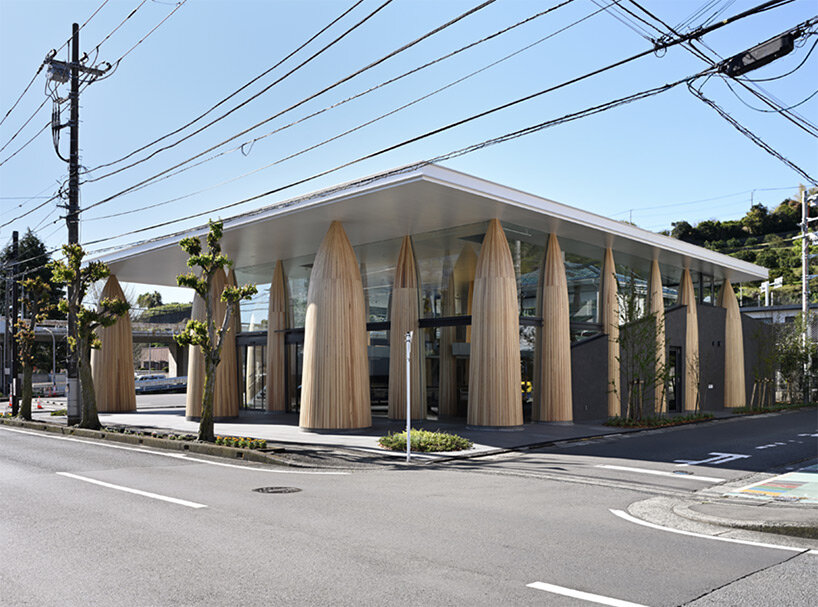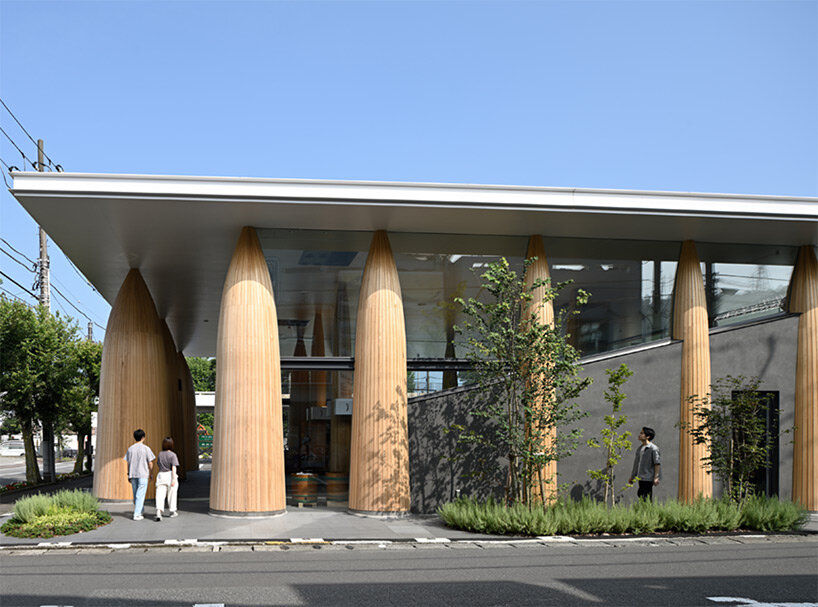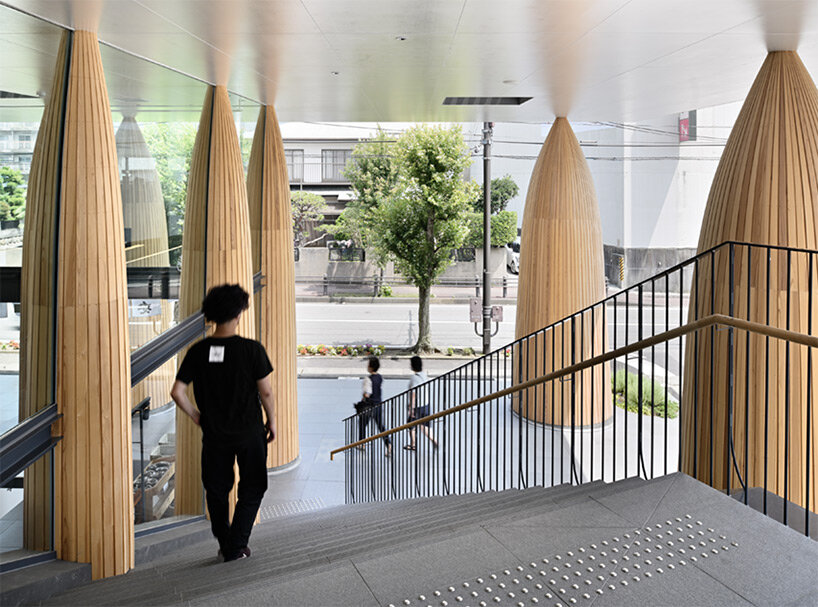 project info: 
name: Yamayasu Turnpike Store
architecture firm: Moriya and Partners (MAP)
lead architect: Takahiro Moriya
producer: CRYPTOMERIA.inc Takahiro Kumazaki
structural engineer: Keisuke Nomura+Nakata Structural Design Office
lighting design and electronic system design: EOS plus Sho Takahashi Koto Mihashi
air conditioning system design and plumbing system design: Getsubi Gokida Masakazu
contractor: General construction Matsuura
location: Odawara, Kanagawa, Japan
site area: 653 sqm
building area: 448 sqm
total floor area: 446 sqm
photography: Nacasa & Partners Yoshifumi Moriya
myrto katsikopoulou I designboom
may 20, 2022
rhythmic arrangement of mountain-shaped pillars supports MAP's retail store in japan